Dividend investing has become a popular way to generate income from an investment portfolio. Unlike bonds and other fixed-income investments, dividends combine a regular source of income with the upside potential of a stock portfolio, delivering the best of both worlds. However, managing a dividend portfolio can be tricky without the right set of tools.
In this article, we'll look at why you should set up dividend alerts, various types of dividend alerts, and how to create dividend alerts for your portfolio.
Why You Need Dividend Alerts
Dividend investing involves more than just selecting the right stocks – you must proficiently manage them, too. Dividend alerts can help you keep up with your portfolio without constantly monitoring apps and websites. Instead, you can configure convenient email alerts when important events or changes occur within your portfolio.
There are several reasons to set up dividend alerts:
Investment Decisions – You may want to buy or sell stocks based on dividend dates to maximize income. For example, you might wait to sell a dividend stock until after a quarterly dividend to realize the income in your portfolio.

Portfolio Management – Dividend alerts can help you manage your existing portfolio, making changes when necessary to ensure you're making enough income. For instance, you may want to quickly reinvest the proceeds from a dividend payment.

Tax Considerations – You may need to factor dividends into your tax planning strategies. For example, you may want to compute how much dividends you anticipate earning to set aside enough money to cover your tax obligations.
These decisions can have significant financial implications. For instance, if you wait to reinvest a dividend, you could miss out on potential capital gains. And these opportunity costs could add up to large sums over the course of decades. On the other hand, a failure to set aside enough money to pay taxes could result in a stressful tax bill or even fines if you can't pay on time.
Types of Dividend Alerts
It's nice to know when you receive a dividend payment, but that's not the only reason to set up dividend alerts. You may also want to know when an upcoming ex-dividend date is to decide whether to add to your position or time the sale to avoid missing the dividend. Or, you might want to track dividend declarations to understand if the amounts are rising or falling.
The three must-have alerts include:
Dividend Declarations – The dividend declaration includes the ex-dividend date, payout date, and payout amount. By receiving alerts for dividend declarations, you can plan when to buy or sell stocks and whether the dividend yield is set to change.

Ex-Dividend Dates – The ex-dividend date lets you know when you need to purchase a dividend stock to be eligible for the dividend payout. If you're interested in receiving a dividend payout, you might want to set an alert for a day or two before the date.

Dividend Payments – Dividend payment alerts can help you keep track of when you receive a dividend payment and the amount. By tracking payments, you can ensure that you don't miss any expected payments and are on track to hit your targets. They also alert your to reinvest the income right away if that is your objective.
In addition to these, you may also want to track significant changes in yield (due to a change in the price or dividend), dividend amount changes, or even risk-related changes, such as a significant change to a company's fundamentals after a quarterly earnings report. The right decision depends on your specific goals and objectives.
Where to Find Dividend Alerts
You can find dividend information in many places, ranging from your brokerage account to popular financial portals – but dividend alerts are less common. While many brokerage platforms will alert you when you receive a dividend, they may not provide alerts for some of the other common scenarios that we discussed in the last section.
TrackYourDividends is one of the most comprehensive dividend-focused platforms. In addition to comprehensive dividend analysis tools, the platform makes it easy to set up alerts for dividend declarations, dividend payments, and ex-dividend dates. That way, you can stay on top of the latest developments without constantly checking your brokerage account.
How to Setup Dividend Alerts
TrackYourDividends makes it easy to set up email alerts for dividend declarations, dividend payments, and ex-dividend dates. If you're a free member, you can sign up to receive dividend declaration alerts, but you need to be a premium member to receive dividend payment and ex-dividend date alerts. And a 7-day trial makes it easy to try a premium membership!
Start by signing up for a free or premium account at TrackYourDividends. After creating an account, you can connect your brokerage account (using Plaid) or manually add your stock portfolio (and you can create multiple portfolios if necessary). Note that dividend alerts are only available to stocks you add to a portfolio (not for watchlists).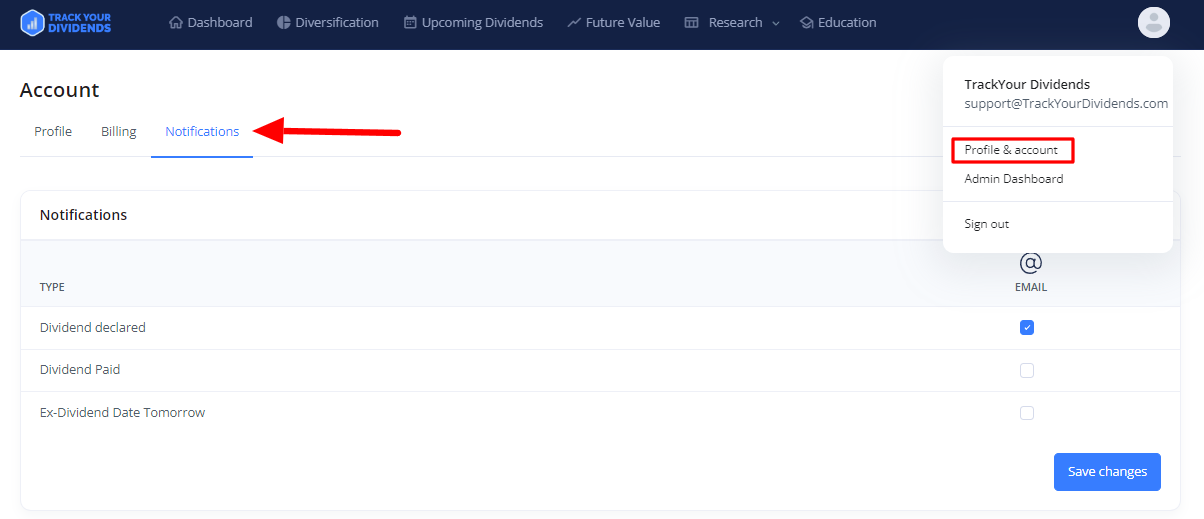 It's easy to set up dividend email alerts on TrackYourDividends.com. Source: TrackYourDividends.com
After adding your portfolio, click on your profile picture in the upper-right corner and select "Profile & account." Then, choose the "Notification" tab to enable or disable email notifications for dividend declarations, dividend payments, or ex-dividend dates. Note that the ex-dividend date notifications are sent the day before the deadline to give you time to react!
Beyond Dividend Alerts
Dividend alerts are just one piece of managing a dividend portfolio. Using tools like TrackYourDividends, you can access everything else you need to efficiently find opportunities and create a portfolio capable of reaching your income goals without relying on brokerages or financial portals that may be too generic for dividend investors.
Some other must-have dividend tools include:
Dividend Screener – Dividend screeners can help you find the right stocks for your portfolio without having to manually find and analyze individual stocks. For instance, you might select a group of stocks based on a minimum yield and maximum price-earnings ratio to combine income with value.

Dividend Research – Dividend investors care about more than just yield. After all, it just takes a plummeting stock price to boost yields! Dividend research tools can help you dig into a company's fundamental and technical merits to predict whether the price will trend higher and whether it can afford to pay or increase dividends over time.

Portfolio Insights – Retirees and others relying on an investment portfolio for income want to understand how much they can expect to earn each month or year. Fortunately, dividend-focused portfolio trackers can show you everything from your annual income to your projected future value at a glance.
The Bottom Line
Dividend investing blends the monthly or quarter income from bonds with the upside potential of stocks, yielding some of today's best opportunities. But unlike set-and-forget bonds, you need to carefully manage a dividend portfolio to ensure that you're keeping up with any changes in the stocks and reinvesting the proceeds, if necessary.
Fortunately, TrackYourDividends makes it easy to research dividend stocks and set up alerts to track them, while providing other research and portfolio management tools to help you stay on track and reach your objectives. Sign up today for free!